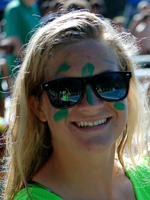 Elizabeth "Lizzie" Manthos
Lizzie has been on the Forest Hollow swim team for 13 years now. She started on the swim team when she was four, although she was in a kickboard race at 3 years old. Lizzie really enjoys teaching our youngest swimmers, the "Mini Gators" the fun of swimming.
Her other main interests are field hockey and lacrosse, which she plays with Annandale High School. And, Lizzie is currently looking at attending a college that offers studies in Marine Sciences.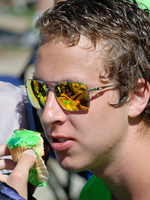 Dylan Gore
Dylan has been a gator for 12 years and has been coaching with both the Gator summer and winter programs for the past 2 years. Dylan truly loves the Gator swim team and never misses a practice.
He is excited to continue swimming at the University of Mary Washington in the Fall. He has a strong Math background so he may be pursuing studies in Economics or Accounting. Dylan also enjoys coin collecting, travelling and rock climbing.